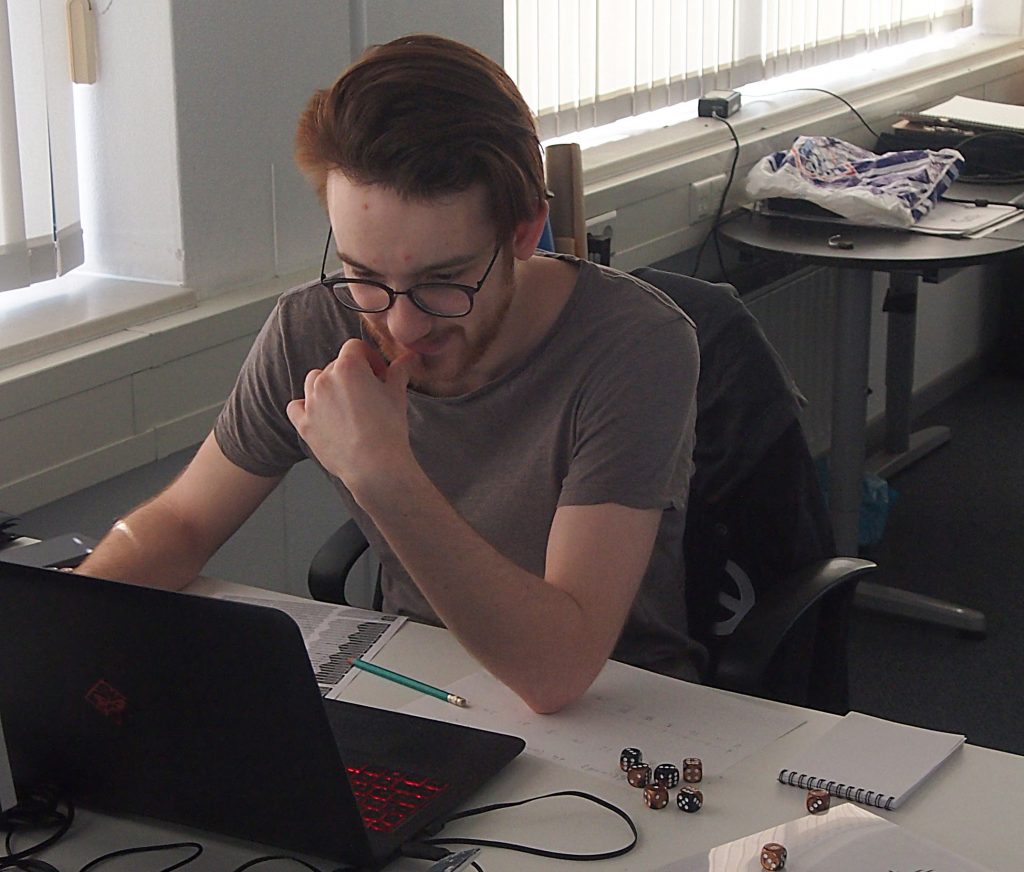 "I love dreaming up crazy characters from a roleplaying perspective, or finding a niche overlap between options which results in a mechanically interesting character."
"My name is Thomas and I am a 3rd-year student at Game Design & Development (Hanze Hogeschool). I specialize in Design and thus will be working on "The Coalition" gameplay."

How did you come to work for Blue Falcon?
I came to know Logan and Cesco through some fellow friends who love role-playing games a while back. I told them I studied Game Design & Development and they told me they were working on a game. Not long after, I sat in the Blue Falcon office and was discussing gameplay with them!
What's it like working at Blue Falcon so far?
I haven't been around for too long, so it is kind of hard to say. But so far, it has been fun! I already got to add some things to the game and the rest of the team is pretty cool! I am very excited for the coming 5 months!
What are you most excited about working on in the future?
As a designer and player I am always excited for character creation. I love dreaming up crazy characters from a roleplaying perspective, or finding a niche overlap between options which results in a mechanically interesting character. I am looking forward to shaping character creation in "The Coalition" so everyone can create a fun and awesome character!
With what kind of unique challenges and rewards do you foresee working on "The Coalition" with the team?
Well, I have mostly worked on digital games, so I am sure I will run into differences in designing a tabletop game. Apart from that I am used to having the lead in a project group, so not being the team-lead will be a (refreshing) experience!
What made you want to intern at Blue Falcon over other potential options?
I really wanted to go for something to broaden my experience and working on such a large, non-digital project is definitely new! Previously talking about "The Coalition" made me really excited to get my hands on the design, so when the possibility of an internship came up, I had to take it!
What are you looking to learn/gain experience with that you feel Blue Falcon can help you with?
I'd really like to get experience in balancing larger systems, such as combat systems, weapons and character traits. Besides that I hope I can get some experience testing the game with play-testers. Specifically setting up testing protocols and measuring heuristics.
Tell us a little more about your studies.
So I study Game Design & Development, as I mentioned before. It is an interdisciplinary study with Visual Artists, Game Developers and Game Designers. I chose the Design specialization, since I enjoy dreaming up experiences but also creating intricate systems. I am currently in my third year and just finished my minor in Finland. There I made a digital card game called Skirmish, which is on the Google Playstore!
Outside of your studies what is your connection to tabletop gaming, role-play and Sci-Fi?
I really enjoy playing role playing games, currently Dungeons and Dragons. I actually recently joined one of Cesco's campaigns! Besides that I love playing tabletop games, since they put you face to face with your fellow players. They are also really easy to pick up! When it comes to Sci-Fi, I enjoy the fantastic possibilities that one day might become real. The fact that, in theory, "The Coalition" could be real is pretty insane. And cool.
You got to come in and play a test session, what are your thoughts on playing the game for the first time?
The team has done a great job so far! I really enjoyed playing and I am very curious to see how it will play when I can play it more often. I am especially excited to see the impact of new rules and additions! Altogether I can't wait to see what becomes of the game!